2023 Men's Worlds preview
2023.03.31
The Men's worlds starts on Saturday in Ottawa, and continue through the gold medal game next Sunday. Allegedly, you can watch this on the internet somewhere, but good luck.
In the brief time I've been doing this, it seems like the women's event is usually more interesting. But it looks like that is changing. There are five men's teams that have at least a 10 percent chance of winning here.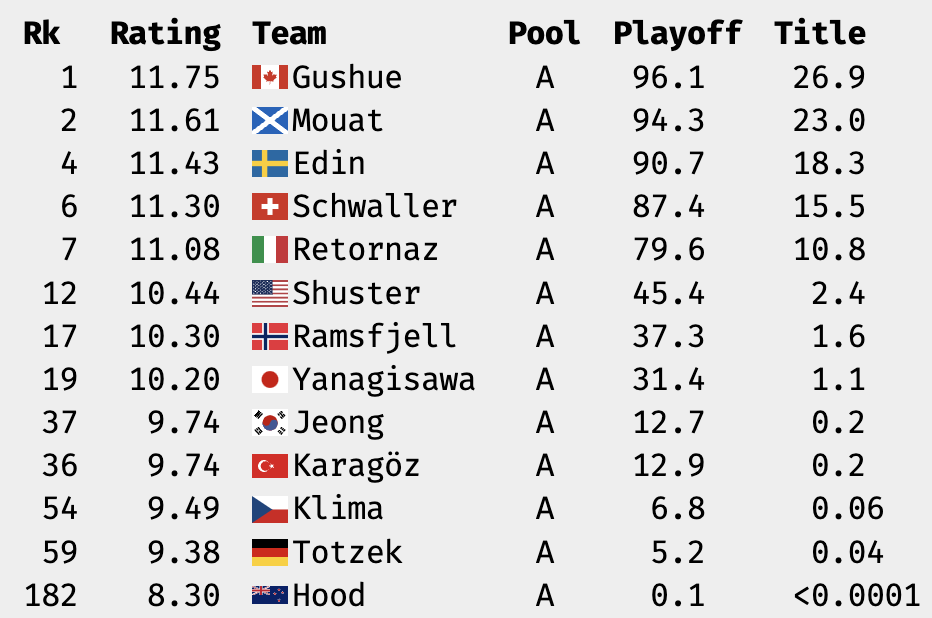 For the fourth time, Team Canada is represented by Team Gushue, who is the favorite, both in our simulations and at CoolBet. But not at Bodog:

We understand that Team Edin has owned this event over the past five years, even in years when they haven't been dominant in other events. So it's fair that Sweden is considered the favorite by some. But Team Gushue keeps rolling along, having been the top team in our ratings since inheriting the spot from Bruce Mouat when Team Mouat struggled in the season-opening Baden Masters back in August.
One note of concern for Gushue is that he's 5-5 against the top four contenders this season. As with Team Einarson on the women's side, a dominant season in Canada no longer makes one an obvious favorite at worlds. There will be losses, and with the elimination of both the page playoff and tiebreaker games, the format does the top teams no favors. The event being held on home soil may mitigate this somewhat, but a title here won't come easy.
After losing six of their first eight games and not qualifying for the playoffs in either the Baden Masters or the GSOC Boost National, Team Scotland led by Bruce Mouat has looked liked one of the best teams in the world again. They rolled through the European Championships, albeit without Nik Edin playing for Team Sweden, and qualified for their next three slams.
Quite amazingly, Team Sweden skipped by Nik Edin has never been #1 in the five-year history of our ratings. Team Edin is always hard to evaluate from a ratings standpoint, but even more so this season given that Edin got hurt at the GSOC Tour Challenge in October.
Team Edin soldiered on and played well enough to stay at #3 in the ratings. Edin has been back for the last three events, which include a second-place finish at the GSOC Canadian Open, and then two undefeated events against weaker fields in Europe. The sims say there's a slim 9% chance of not finishing top six and making the playoffs, but even that seems high.
When Peter De Cruz "retired" from curling, one might have figured Team Switzerland would take a step back. But Yannick Schwaller has been a capable replacement at skip. Team Schwaller is a clear step behind Mouat and Edin in Europe, and not that much better than Team Retornaz, but they're still good enough to win here if things break right. They're 8-7 against the other four contenders this season, although two of those wins were against an Edin-less Sweden.
The last of the serious contenders is our beloved Team Italy, who looks to build off of last season's third-place finish, the best ever result for Italy at worlds. Team Retornaz finished the 2020-21 season at 21st in the world, but is now up to seventh thanks to improved play and a reshuffling of various teams creating a power vacuum at the top the men's game. I'm not sure why they are getting better odds than Switzerland at both Bodog and Coolbet – Schwaller is 4-2 against Retornaz this season – but that gives you some idea of the respect Italy now has in men's curling.
Italy opens with Scotland and Canada on day 1, and then plays Switzerland in their fourth game, so they have an inexplicably front-loaded draw. If they can just win one of those games, making the playoffs will be possible. And if they win two, watch out.
The rest of the field is here, present, merely existing. These teams will occasionally entertain us, and as Norway did in the women's event, possibly give you the impression they can win until the very last end of the championship game. Team USA actually has a 45% chance of making the playoffs but just a 2% chance of winning, which makes some sense when you consider they probably have to win three games in the playoffs and those games are going to be against three of the top seven teams in the world.
Magnus Ramsfjell is back to represent Team Norway for the second year in a row. Team Ramsfjell went 5-7 in Vegas last year and didn't qualify for the playoffs, though they've moved from #37 before last year's event to #17 this year.
Credit to Team Japan, skipped by Riku Yanasigawa, who played 11 of 13 weeks in Canada during the fall cashspiel season. They've logged 83 games this season and beat Schwaller and Shuster before the new year, although the Shuster win was in Japan, an advantage that won't be present in Ottawa. A playoff berth is a realistic outcome for these guys, though.
A couple of teams with remote playoff hopes are Turkey and Korea. Ugurcan Karagöz skips Team Turkey and they haven't beaten a top 25 team in nine tries this season and are getting no respect in the betting markets. But Team Karagöz did beat Team Korea in all three games this season, and has risen to #36 in the world. Karagoz lost in last week's spiel at Saint Catharines, giving up a steal of two in the last end of the final against #24 Team Mooibroek.
This is Turkey's first appearance at world's and the lack of experience surely works against them. Still, it's clear Turkey is taking curling more seriously this season, and winning four or five games is a reasonable goal.
Team Jeong has criss-crossed Europe this season, playing a busy schedule with limited results. Unlike Turkey, Team Korea has beaten some top 25 teams, including two wins against #14 Korey Dropkin in the Pan-Continental Championships. The betting markets are more optimistic about Korea relative to Turkey despite the two teams being almost even in my ratings.
Germany and the Czech Republic are also here but are very much long-shot playoff participants.
And finally, we have Team New Zealand which did not win any of my computer's one million simulations. It's not clear to me why the WCF awarded this spot to the Asia/Oceania region instead of Europe when China is not attempting to qualify. There are far superior countries like the Netherlands, Finland, and Denmark, who all would do better here, but good for New Zealand I guess. Coolbet actually lists them at +340 (and Bodog at +325) to beat Korea in their opener, so maybe there's a realistic chance for them to win a game.