2023.03.17
It's a non-Olympic year so all the stars are back at worlds, which starts Saturday in Sweden. Well, almost. With Eve Muirhead's retirement, it's up to #41 Rebecca Morrison to defend Scotland's honor. And South Korea is represented by its third-best team, led by #17 Ha Seungyoun.
To cut to the chase there are five teams that have a chance of winning this thing: Canada, Switzerland, Japan, Sweden, and USA. The odds based on the doubletaekout.com simulations are shown below.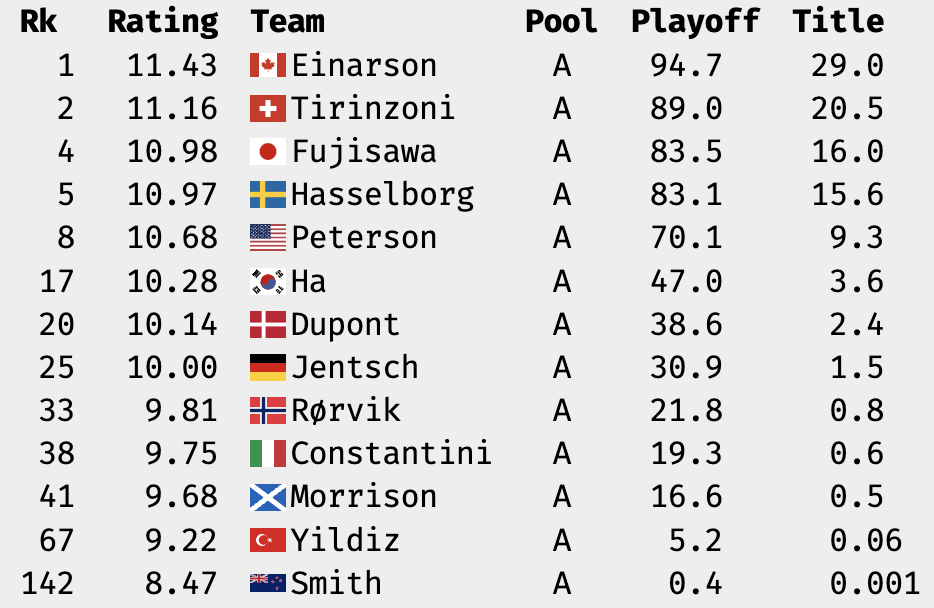 Team Einarson has established itself as the best in the world this season and gets a whopping 95% chance of making the six-team playoff field. But with no page-playoff and five of the top six teams in the world participating here, Canada has a mere 29% chance of winning the event.
A reconfigured Team Tirinzoni (#2) is back for Switzerland and looking to win their fourth-consecutive worlds. This comes with the asterisk that the 2020 was cancelled, and Team Tirinzoni hadn't qualified for that event so wouldn't have won it. Tirinzoni has been slightly off their game in some respects, but their 12-4 record against the top ten is the most impressive in the world.
Team Japan is skipped by Satsuki Fujisawa who is up to #4 in the world. Among their 65 games includes a whopping nine against Einarson, of which they've won four. This team won silver at the Olympics and won the Pan Continental Championships in November against the likes of Canada, Korea, and the US.
Things haven't been quite right for Team Hasselborg since the pandemic interrupted one of the most dominant seasons by a women's team in curling history in 2020. Still, they've been good enough. They qualified at three of the four slams they played although they never got past the quarterfinals in any of them.
And you know we will make room for Team USA here. Team Peterson is up to #9 and while not on the level of the top four teams in the event, the six-team playoff structure and single-elimination format helps them more than any team. They end up with a good shot of making the playoffs (70%) where anything is possible.
Bovada has odds for the worlds (shown below) and it's like we're back to the prehistoric days where they didn't do any research. There's some value here on Japan, Sweden (especially given they're the host), and USA due to inflated odds for Canada and Switzerland and Bovada apparently not understanding that South Korea is not sending Eun Ji Gim or Eunjung Kim.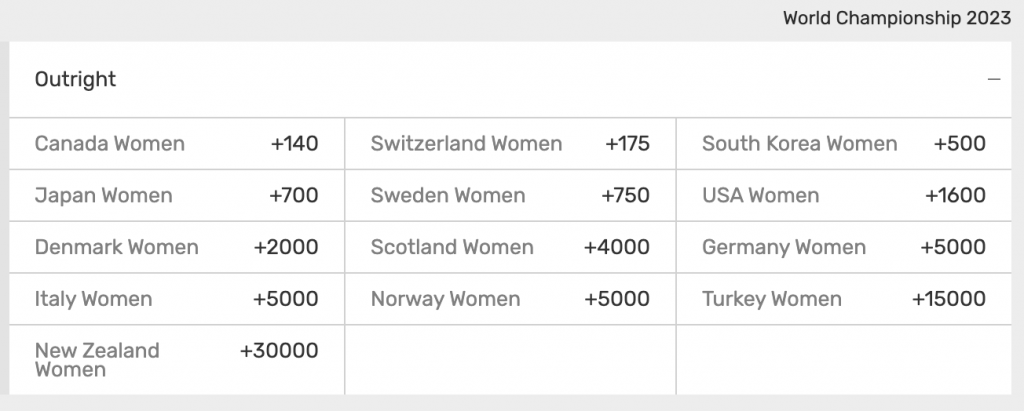 Finally, shout out to Team New Zealand who makes their debut at worlds. I believe this is the first time a team from the southern hemisphere has appeared at women's worlds, a gift from China not attempting to qualify and Russia being banned.