2021.10.12
The last couple weeks we've talked about the choices made by teams on their first shot of an end in the very specific case of when hammer is down one. But let's expand that. Here's the guard percentage for non-hammer in each end for various leads: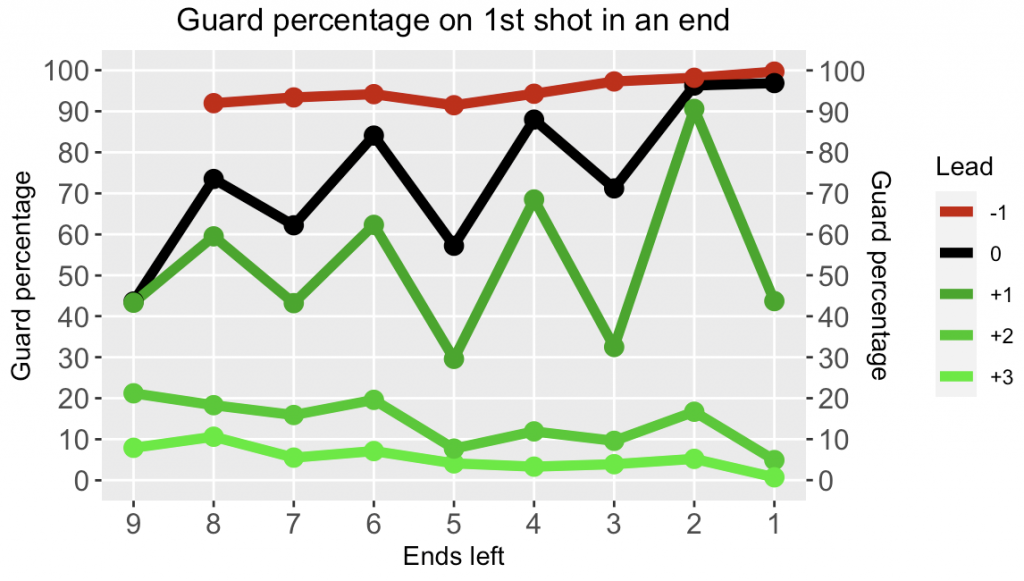 The only decisions top teams really make on the first shot are when they are tied or up one. Any worse and they almost always guard, any better and they almost always draw. There are actually still a few decisions early in a game – especially if it's a 10-ender – when up two.
Jason Gunnlaugson actually elected to guard in the second end after scoring three in the first against Mike McEwen in the Canadian Olympic trials direct-entry event. That is good! Because that strategy was used in just 7% of cases in the shot data and we like to see unconventional strategies. But it was bad! Because the end became a mess early and McEwen scored four in the second en route to a 9-8 win.
(We mentioned last week that Team Gunnlaugson was the most aggressive non-hammer team in our database. And this instance is another example of that.)
As we did last week, we'll split the cases of hammer's first shot into two groups. First, let's look at cases where non-hammer puts up a guard on its first.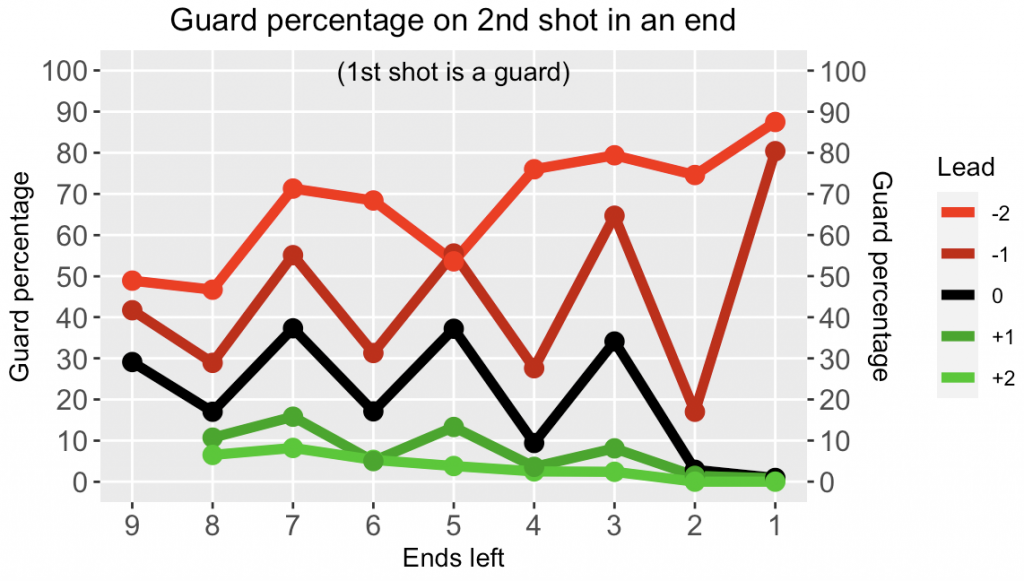 Decision time for hammer is when it trails by one in even ends. Teams are split on whether to throw up their own guard or use the existing one. Some teams still guard in odd ends as well, and when the game is tied, most teams don't throw a guard on their first, but it usually happens in even ends when it's done.
Finally, here's what hammer does when non-hammer draws on its first.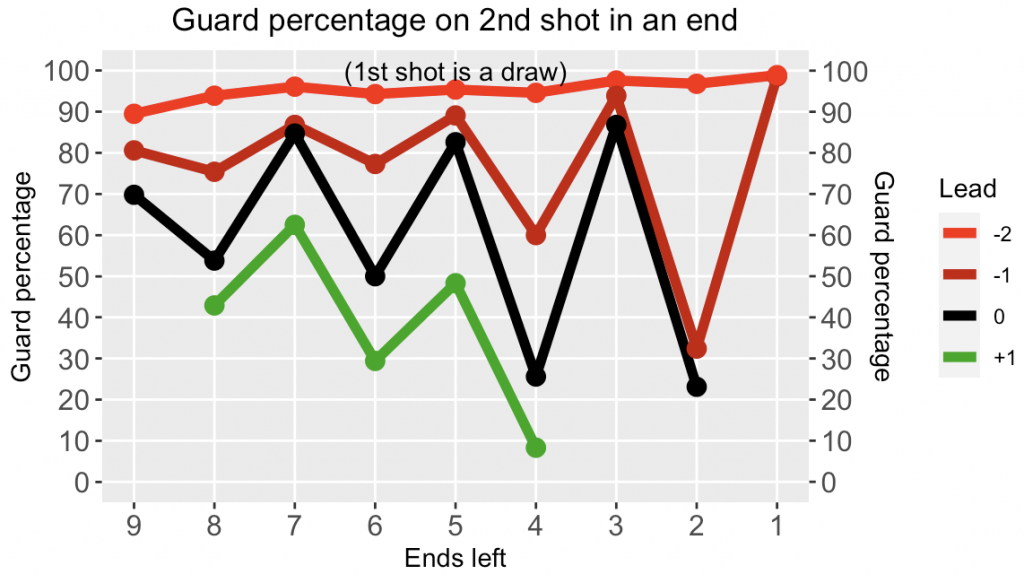 Guards are much more likely and even-end considerations hit hard when non-hammer throws in. When hammer is tied or trails by one, almost every team throws up a guard in an even end after a non-hammer draw. When trailing by one, hammer is more likely to accept the open-end invitation and hit in an odd end as we get later in the game. With 6 ends left (3rd end of an 8-end game), hammer guards 78% of the time. That drops to 60% and 32% with 4 and 2 ends left, respectively.
At some point, we need to connect this data to win probability to really evaluate even-end theory. But for my own thinking, it was important to identify the situations where curling teams have some differences in strategy. For the most part those cases are limited to when hammer is tied or down one.
Last week in curling: It was Canadian Thanksgiving but it was a feast for American teams, at least on the women's side. Team Peterson won the Calgary event and they did it the hard way, going through the C bracket of the triple-knockout stage, forcing them to play ten games over four days.
Along the way, they beat #2 Kerri Einarson, #11 Eve Muirhead and needed just three ends to beat #12 Chelsea Carey in the semis, eventually winning the final over #7 Satsuki Fujisawa. Fujisawa beat #14 Jamie Sinclair in the semis, preventing what I assume would have been the first all-American final of a major event on Canadian soil.
Notably, neither then-#1 Rachel Homan nor Einarson made the playoffs, which resulted in Silvana Tirinzoni moving back to the top spot in the world, the third change at the top in the last four weeks. Perhaps more importantly, the women's side of the ratings are significantly more compressed than the men's. Tirinzoni's rating of 11.44 is the lowest for a top-ranked women's team since Rachel Homan's 11.40 led the ratings of January 7, 2019.
Speaking of the men, Brad Gushue's team became the last top team to make its debut this season and they did so by winning the Stu Sells Toronto Tankard, knocking off #9 Glenn Howard in the final. They remain #2 in the world, but nearly took over #1 after King Bruce Mouat fell in the quarterfinals of the Swiss Cup Basel.
Mouat was knocked out by the eventual champ, #5 Peter De Cruz – no shame in that – but an earlier loss to a Norwegian junior team skipped by Lukas Høstmælingen was one of the biggest surprises of the season so far. Høstmælingen vaulted to #79 in the world and #6 among junior teams, so Norway's a team to watch in junior worlds in March. We look forward to using the full Scandinavian alphabet for years to come.
The other notable men's event was in Swift Current where Kevin Koe beat Brad Jacobs in the final. I've been somewhat dismissive of Koe's chance at winning the Canadian Olympic berth, thinking Team Dunstone has caught them for the third-best Canadian rink behind Jacobs and Gushue, but the results so far this season don't support that. Koe moves from sixth to fourth in the world after their success in Saskatchewan.
The high-profile events this week are on the men's side, where several top ten teams will be in action in Penticton. The top non-slam-playing European teams (plus Yannick Schwaller for some reason, who will presumably be making a cross-ocean flight next Monday) will battle it out in Champery.