2022.10.11
I have a confession: I didn't watch one shot of the first Slam of the season. OK, I saw a few highlights. But the viewing options outside of Canada are not ideal if one is not planning to be glued to the couch all weekend.
However, that doesn't prevent me from dropping some thoughts after digging into the data. LFG!
Put some respect on Team Tirinzoni's name
Team Tirinzoni never seems to generate the fear that Einarson and Hasselborg do, but their results speak for themselves as they beat Einarson in the final for their third Slam title. This is the tenth consecutive Slam that Tirinzoni has made the playoff round. That's not a women's record as Jennifer Jones once made 14 in a row, but I can't find another streak better than 10.
I like checking the player leaderboards after an event and in this case what jumps out is that Alina Pätz destroyed her fellow fourths.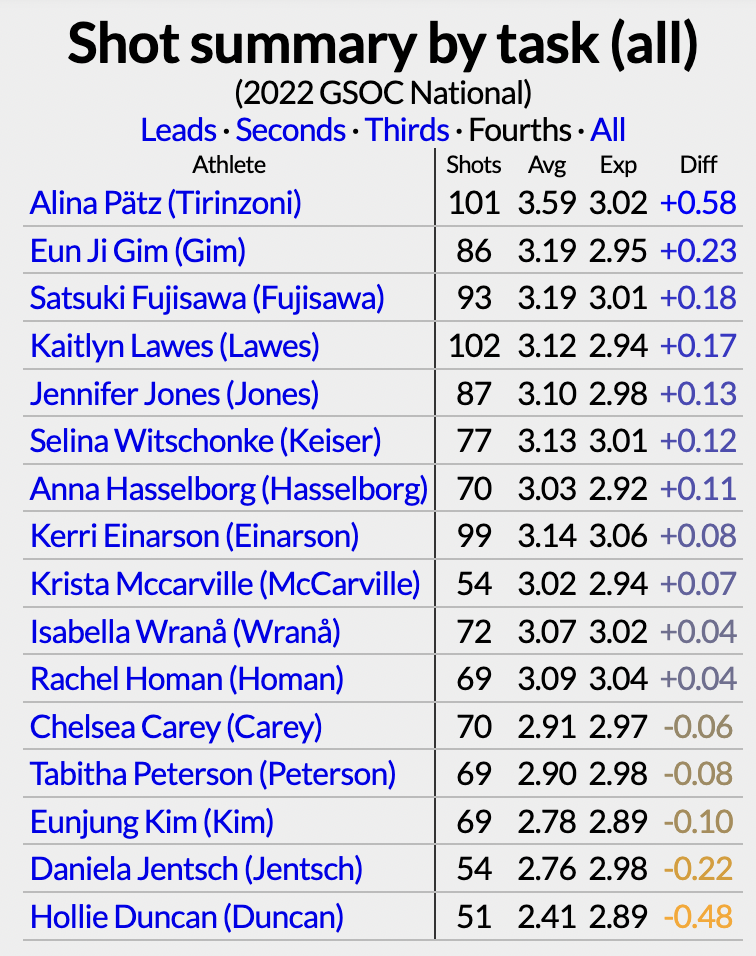 The difference between Pätz and the second-best fourth in accuracy was about the same as the difference between the second-best fourth and the third-worst fourth once you account for shot difficulty. Pätz played a different game than everyone else.
Gushue has been invincible when tied with hammer
Team Gushue won the men's event with an extra-end victory over Team Edin in the final. Brad Gushue is almost always at the top of the accuracy stats for fourths and this event was no different. He didn't lap the field like Pätz but he was clearly the best among his fellow fourths.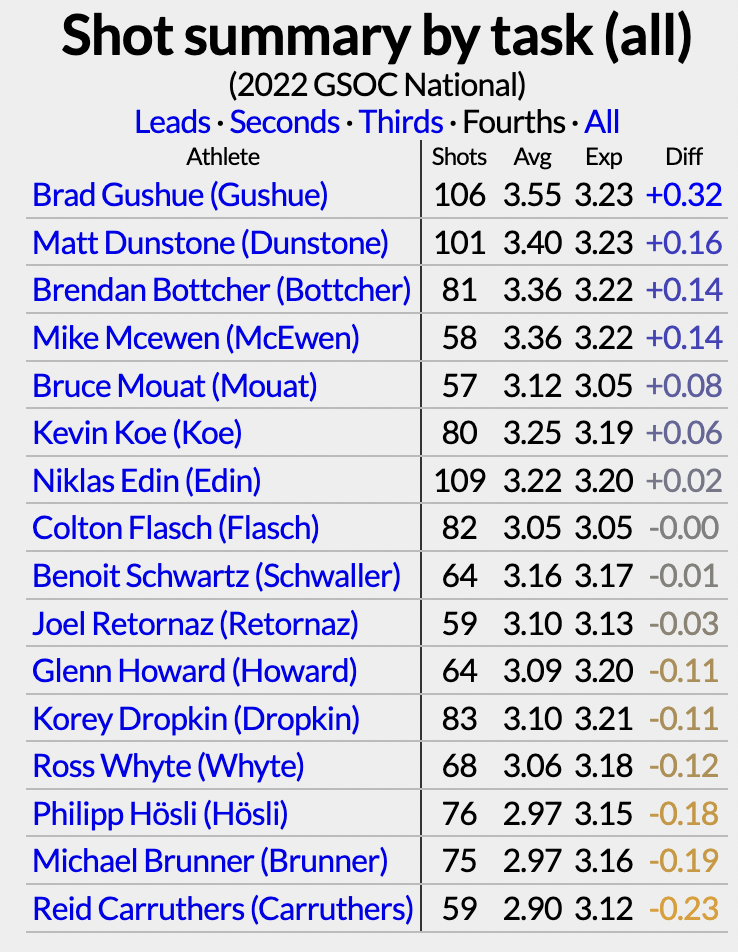 The championship game was 37th case in my shot database of Team Gushue having hammer when tied in the last end, and here are the results of each of the final shots in those games: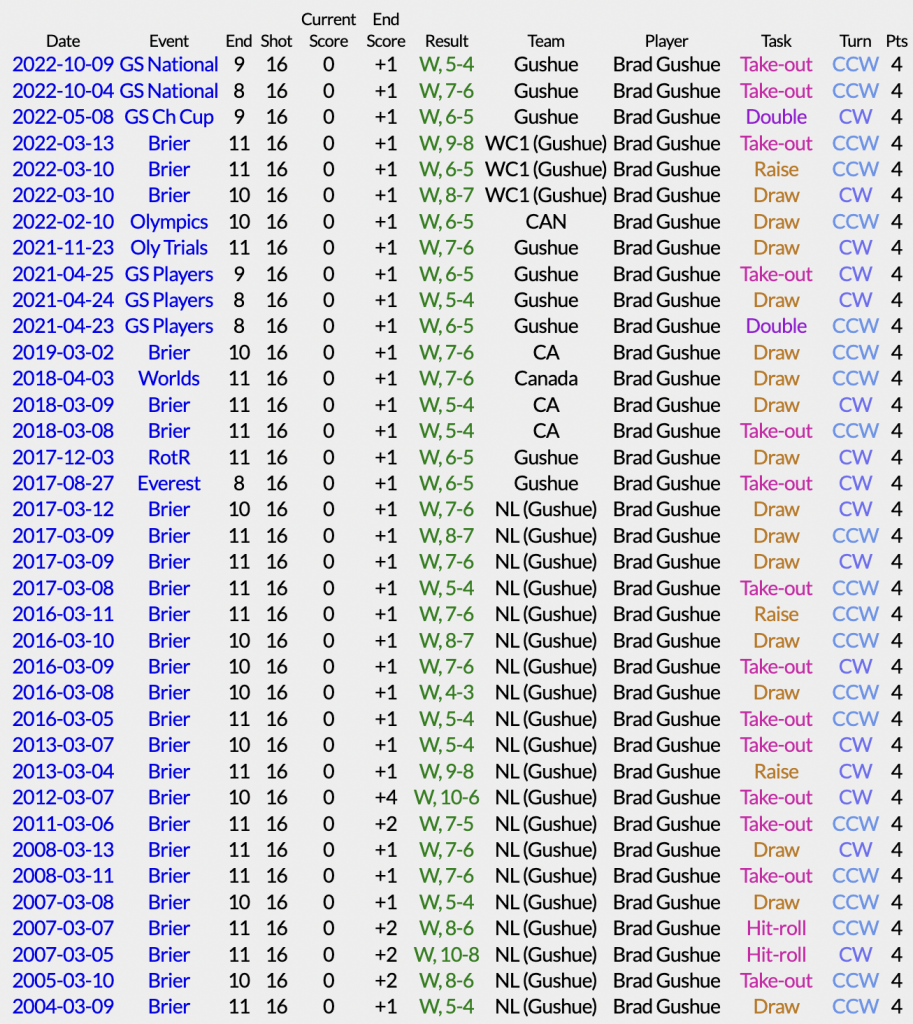 That's 37 shots called and 37 shots made. It's ultimately a team honor as many of these were probably easy, set up by the work of the first seven shots of the end. Not to mention the sweepers play a role here, too. (See the 2017 Brier final.)
And Gushue has lost when tied with hammer, but he's perfect in this sample of games on the big stage. I've been skeptical about the preference of elite men's teams to be two down with hammer rather than tied without going into the last end. And you might think this is pretty compelling evidence that you'd rather be down 2 with hammer against Gushue.
But I don't think so, at least not if the tick shot is banned. And that is true in nearly all major events these days. (I'm not sure what the hold up is for Curling Canada and other tour events played in Canada. Let's join the real world, guys.) If we get another 37 games of data, I'd expect Gushue to lose 3 or 4 of them.
Furthermore, I have 24 shot logs where Gushue has been up 2 without hammer in the final end and he's won 22 of those games. However, the last loss was in the '09 Brier – Gushue has won 18 in a row in that situation. So if you have the choice of being two down with hammer or tied without against Gushue, you are pretty much just messing around with the music at your funeral. But in a no-tick situation, I still think you have slightly more hope if you're tied without.
Marc Kennedy is the best third in the world
I thought when Ben Hebert, Brett Gallant, and Marc Kennedy joined forces with Brendan Bottcher that this new team might be able to challenge Gushue for Canadian supremacy this season. Mainly because – with apologies to Oskar Eriksson – Kennedy's the best third in the men's game and he performed as such at the National.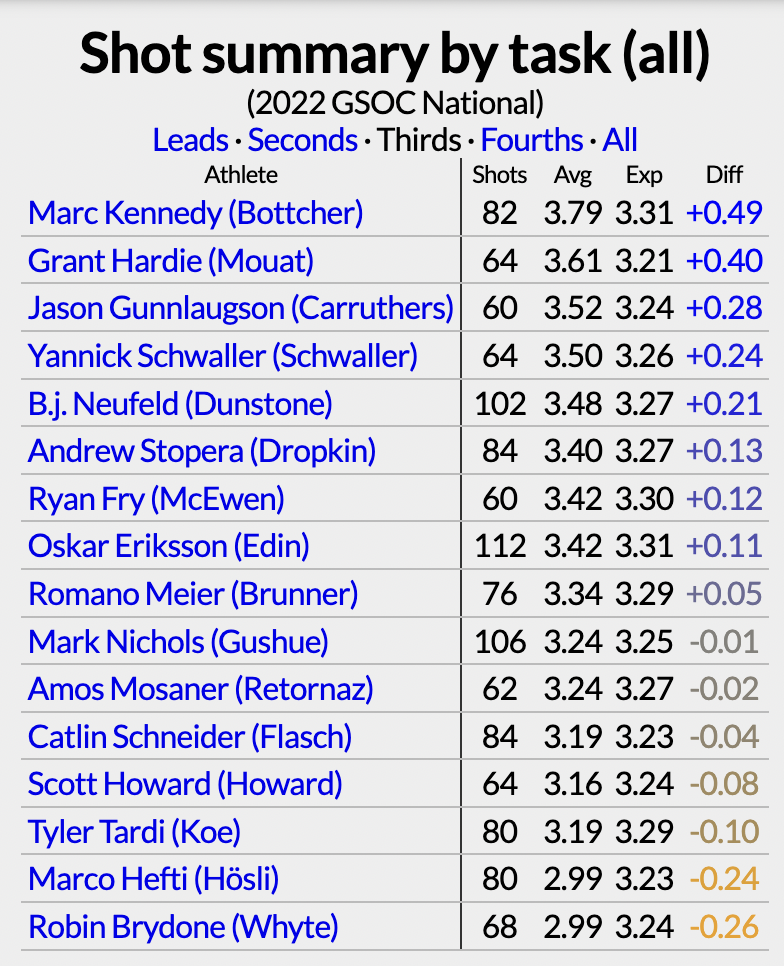 Team Bottcher is better than Team Gushue at third, which is at least something. At North Bay it wasn't enough, though. Bottcher went 3-2, including a loss to Gushue in pool play and an upset loss to Korey Dropkin in the quarterfinals. Gushue subsequently beat Dropkin in the semis in one of the most lopsided games in Slam history (11-0 in 5 ends).